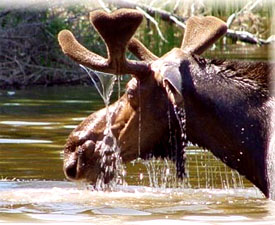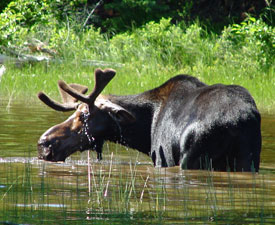 Hunting Excursions
Moose Hunting
Northern Maine is known for Moose hunting. This area offers a variety of terrain; hardwood ridges, clear cuts, black growth, and thick cedar swamps. Our Bulls average a 50 to 60 inch antler spreads, and we offer Guided River Floats down Fish River. There are also 100's of miles of logging roads to explore for Moose. We are located approximately one hour from the Allagash area, where our guests can hunt as well.
Hewes Brook Lodge Moose Hunting Zones are 1, 2, 3
Rates:
Non Guided Moose Hunt: $2100.00 with Alternate Hunter (all inclusive). $500 deposit is required and remain balance is due upon arrival at Hewes Brook Lodge.
Price includes permit holder and hunting companion (sub permittee or other).
For non guided moose hunt at Hewes Brook Lodge please contact Phil Daggett at 207-453-7036 207-313-3616
Mail to:
Phil Daggett
33 Great Meadow Lane
Fairfield, Maine, 04937
207-453-7036
Guide Services $200.00 Per Day with Alternate
Add 9% Maine state sales tax
Meals and appetizers are included!
Rates are Subject to Change Please call for current pricing.
Moose Seasons and Permit Application Information: Visit this link http://www.maine.gov/ifw/licenses_permits/lotteries/moose/index.htm
You can also bid on one of ten auction hunts offered by the state each year. Bid details available online at http://www.maine.gov/ifw/
Maine Hunting and Fishing Rules and Licenses
Click Below to get all the details on Maine Hunting!