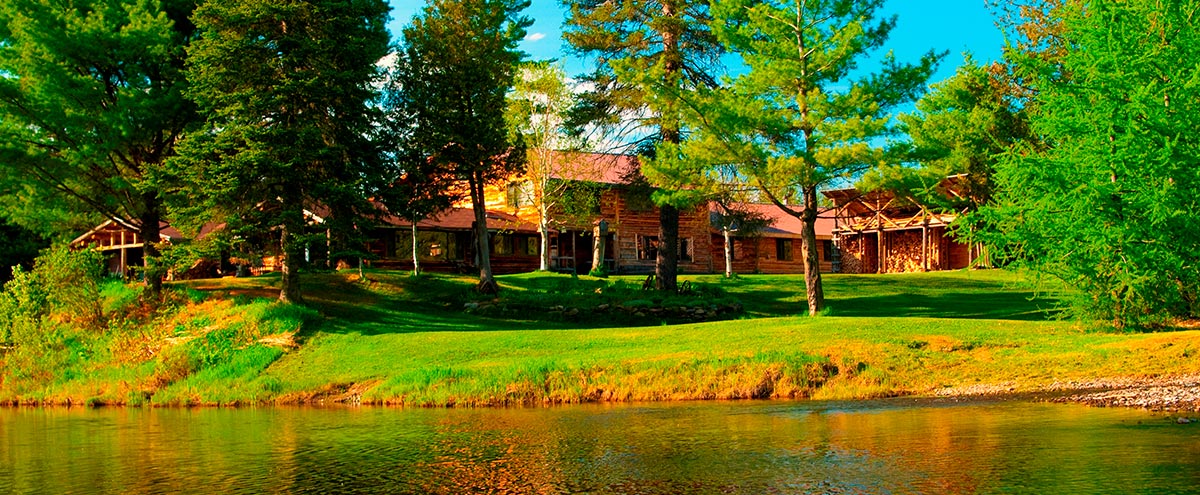 Hewes Brook Lodge is Nestled in the Northern Wilderness on the bank of the pristine, 24 mile Fish River. It is a four season All Inclusive Maine Lodge for Hunting Deer, Bear, Moose, Coyote, & Grouse, or just plain getting away from it all.
In Northern Maine you will also find over 2,500 miles of excellent groomed ITS trails for Snowmobiling, Back Country Touring, Snowshoeing, Cross Country Skiing, and Ice Fishing.
At Hewes Brook Lodge there is also the opportunity to use this space for Corporate Workshops and Family Retreats. This secluded area in Aroostook County offers a variety of Lakes and Rivers (Cross, Long, Fish, Portage, Red River) for Fly Fishing, Trout and Salmon with a Master Maine Guide. During other seasons of the year our Vacation Packages offer Canoeing, Kayaking, and Wildlife Photography.
The Daggett family will make your trip a memorable one so come join us and share the Rich History and Traditions of Northern Maine.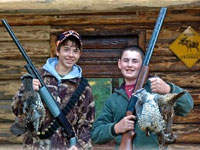 Maine is renowned for its diversity of wildlife and we have hunting excursions of all kinds.
READ MORE …>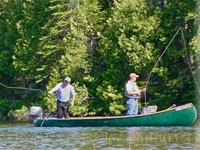 Northern Maine has an abundance of lakes, ponds, and streams, many of which provide good fishing.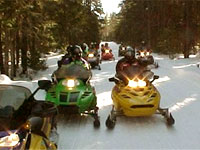 Northern Maine offers some of the best snowmobiling in the state. There are over 2,500 miles of groomed ITS trails.
READ MORE …>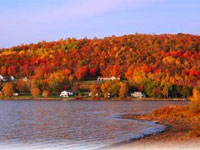 The river valley at Hewes Brook Lodge is located in a very secluded area and offers the greatest photographic opportunities.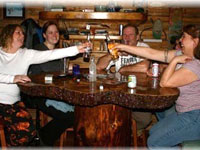 Northern Maine offers a diversity of activities for both children and adults on summer vacations — and it's a great place to just kick back and relax.
Hewes Brook Lodge and Oxbow Outfitters
2016 Bear Hunt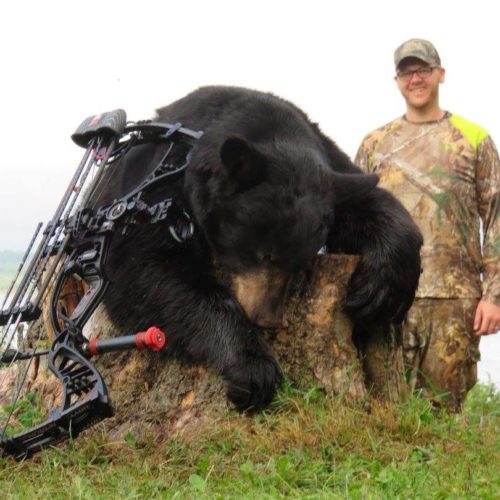 Hewes Brook Lodge and Oxbow Outfitters team up to provide 4 Star accommodations along with expert guide service. Enjoy the comfort and class of staying at Hewes Brook Lodge and trek out for a day of bear hunting with Oxbow Outfitters' experienced guides.
Hewes Brook Lodge has partnered with Oxbow Outfitters and Big Machias Camps to offer an all inclusive hunting experience in Northern Maine, Portage, T-I4 R7. Our spacious lodge is the premiere four season destination that offers first-class accommodation, food, hospitality, and a private setting on the tranquil Fish River.
In 2017 we will welcome you through the new front entrance of our retreat center where you will see a fireside sitting area, unique eight foot timber bar, and a wood fired pizza oven.
So come join us for a trip of a lifetime and share in the rich history and hospitality of the Crown of Maine.
The Oxbow Advantage
To have consistent success in bear hunting it involves a team effort coordinated well in the advance of the season. With baiting starting 30 days prior to the opening day of the season, we work countless hours setting up locations and baiting bears. The expansive area we have to hunt allows us to maximize the number of hunting stands with no overcrowding or hunting of any area. Our team oriented philosophy combined with the unique and highly populated bear hunting area truly creates one of the best bear hunting camps in the country.
Directions To Hewes Brook Lodge